Heart Disease Statistics for South Asians
10 Jun 2017
How prevalent and how dreadful is heart disease in the South Asian community? I find it helpful to study the slide below. It was presented in
South Asians and Heart Disease (YouTube)
, a talk given by the founders of
South Asian Heart Center
in Mountain View, California in 2011.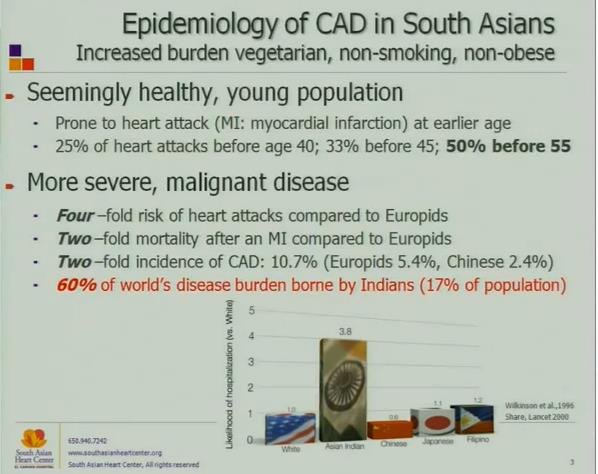 "Epidemiology of CAD in South Asians"
What does the title of the slide mean?
Epidemiology means 'study'.
CAD stands for Coronary Artery Disease (also called "heart disease"). It is caused by buildup of plaque in our arteries. The more the plaque, the narrower the arteries. When our arteries become so narrow that very little blood flows through them, we get a heart attack. In medical literature, heart attacks are called 'myocardial infarctions'.
South Asians are people from India, Pakistan, Bangladesh, Sri Lanka, Afghanistan, Nepal, Bhutan and Maldives.
So the title of the slide simply means "Study of Heart Disease among People from India, Pakistan and neighboring countries".
How dreadful is heart disease?
The slide compares the South Asian population with "Europids", a term that is hard to define; see Wikipedia article. Loosely speaking, Europids refers to people who live in Europe and North America.
Heart disease (thickening of the arteries): About 5.4% of Europids have heart disease. Among South Asians, this percentage is 10.7%, about twice that of Europids.
Heart attacks: Among the South Asians, 25% of heart attacks occur before the age of 40, 33% occur before the age of 45 and 50% occur before the age of 55. Overall, the percentage of people having heart attacks among South Asians is four times more than the percentage among Europids. The chances of death in the first heart attack are two times more.
Global burden of disease: This is a technical term defined by WHO to measure the number of years lost due to premature mortality and years of life lost due to sub-optimal health. About 60% of "Global Burden of Heart Disease" is incurred by Indians even though they are only 17% of overall world population.
Vegetarian + Non-smoking + Non-obese = Healthy? No!
Many South Asians believe that if we follow vegetarianism, and if we don't smoke and if we are not too fat, then we are in great health. This is a misguided notion because non-smoking, non-obese vegetarians also get heart disease!
© Copyright 2008—2017, Gurmeet Manku. Send me email