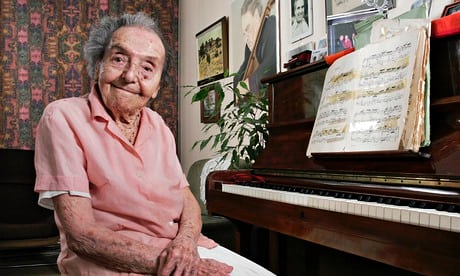 "I look where it is good. I know about the bad but I look at the good thing." :)
"Never hate. We are all sometimes good, sometimes bad."
"The worst thing in life is boredom. When people dont know what to do with themselves, they are very very poor."
"Complaining does not change people. When they complain — bla bla bla — nothing changes!"
"Be thankful. Thankful for everything.. seeing the sun.. seeing the smile.. a nice word of somebody. Everything is a present. I learnt to be thankful for everything."
One of the key things for her survival is music. "I learnt Bach by heart. My doctor said, 'this is better than a hundred pills' because I learnt Bash by heart!"
"Smiling helps a lot." :)
"Hatred eats the soul of the hater, not the hated."