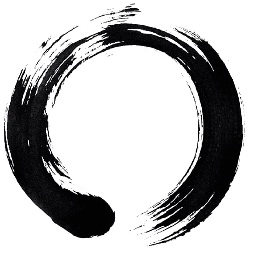 Zen Koans are awesome! Many of them are listed here. I like the koans in these YouTube videos: Hui Neng's Flag and Buddha Statue. Others koans that I like are listed below.
Daoxin (Tao-hsin, 580-651), the so-called "4th Chinese Chan Patriarch," the actual first Chan master of a settled monastic community, stated: "The wise man does nothing, while the fool is always tying himself up."
YouTube video — Some monks were sitting quietly in the garden of a Buddhist monastery on a calm, beautiful day. The prayer flag on the roof started fluttering and flapping in a breeze. A young monk observed: "Flag is flapping." Another monk said: "Wind is flapping the flag." The Chan master Huineng (whom Southern School Chan regards as 6th Patriarch), overhearing the two monks talking, declared: "It is your minds that are flapping." Centuries later another famous Chan monk, Wumen Huikai (1183-1260), commented on this episode: "Flag, wind, minds flapping. Several mouths were flapping!"
Two Zen monks, Tanzan and Ekido, traveling on pilgrimage, came to a muddy river crossing. There they saw a lovely young woman dressed in her kimono and finery, obviously not knowing how to cross the river without ruining her clothes. Without further ado, Tanzan graciously picked her up, held her close to him, and carried her across the muddy river, placing her onto the dry ground. Then he and Ekido continued on their way. Hours later they found themselves at a lodging temple. And here Ekido could no longer restrain himself and gushed forth his complaints: "Surely, it is against the rules, what you did back there…. Touching a woman is simply not allowed…. How could you have done that? … And to have such close contact with her! … This is a violation of all monastic protocol…" Thus he went on with his verbiage. Tanzan listened patiently to the accusations. Finally, during a pause, he said, "Look, I set that girl down back at the crossing. Are you still carrying her?"
(Based on an autobiographical story by Japanese master Tanzan, 1819-1892)
Keiji, a long-time Zen student, approached his master and said: "I don't see how there can be any enlightenment that sets you free once and for all. I think we just get ever greater glimpses of Buddha-nature, the vastness that is our true Reality. It's an ever-expanding process." The master, looking penetratingly at Keiji, replied. "That may be what you think. But what is your experience, your experience right now?" Keiji looked momentarily confused. "My experience right now, Master?" "Yes. Do you know yourself as Keiji, having ever-expanding experiences of Buddha-nature? Or do you know yourself as Buddha-nature, having the experience of Keiji?"
When Tesshu (1836-88), the famous Japanese samurai master of the sword, was young and headstrong, he visited one Zen master after another. Once he went to visit Master Dokuon and triumphantly announced to him the classic Buddhist teaching that all that exists is empty, there is really no you or me, and so on. The master listened to all this in silence. Suddenly he snatched up his pipe and struck Tesshu's head with it. The infuriated young swordsman would have killed the master there and then, but Dokuon said calmly, "Emptiness is sure quick to show anger, is it not?" Tesshu left the room, realizing he still had much to learn about Zen. He later became fully enlightened and founded the art of "no-sword."
A student went to see his meditation teacher and said, "My situation is horrible! I feel so distracted most of the time, or my legs ache, or I'm repeatedly falling asleep. It's terrible." Said the teacher matter-of-factly, "It will pass."
A week later, the student returned to his teacher. "My meditation is wonderful! I feel so aware, so peaceful, so alive!" The teacher told him, "It will pass."
Chan master Fayan Wenyi (Fa-yen Wen-i, 885-958) interrupted an argument among some monks concerning the relationship of mind to reality by posing to them a question: "Over there is a large boulder. Do you say that it is inside or outside your mind?" One of the monks replied, "From the Buddhist viewpoint everything is an objectification of mind, so that I would have to say that the stone is inside my mind." Quipped Fayan, "Your head must be very heavy!"
Yunmen sang:
The cloud and the moon, both the same.
Valleys and mountains, each different.
Are they one, or are they two?
Wonderful! Splendid!

© Copyright 2008—2017, Gurmeet Manku. Send me email