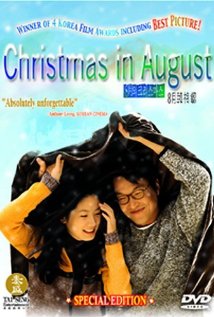 Director
: Jin-ho Hur (97 mins)
Reviews: RottenTomatoes (N/A), IMDB (7.8), Wikipedia, Amazon.
Similar movies: death, romance.
Summary: Christmas in August is popular among Korean film students for its symbolism, camera work and character study. The movie is gently paced. Towards the end, there is a 15 to 20 minute long scene with almost no dialogues. The beauty of the movie lies in what all is unsaid. The actions and facial expressions of its characters convey everything. The main character in the movie is a photographer. The Wikipedia article explains the symbolism of his photos, picture frames and their locations in the movie.
Storyline: A photographer in his early thirties is terminally ill. He is living his remaining days peacefully. He has an infectious smile and from his outward appearance, he looks just fine. One day, a lovely young woman in her twenties walks into his studio. She is a parking violation officer and implores him to develop some photos quickly. The photographer obliges. The woman starts coming to his shop repeatedly. As they continue to meet, a gentle romance develops between the two. The movie is essentially a character study of these two persons, without much of a plot. Their friendship is smooth and natural, with no melodrama, no tension, no struggle. But they never hug or kiss or verbally express their fondness for each other. All along, the photographer continues to live a normal, routine life. Once or twice, he expresses anger and frustration, but only briefly.
Early in the movie, there are lovely scenes of three little boys arguing and fighting over who really is the most beautiful girl in their class. Then there is a grandmother who comes to the studio twice for her portrait shot, a young girl who wants to bury her face in her hair locks, and a family who wants their picture together.
Overall, a watchable movie. Other movies with a similar theme are Geethanjali (Telugu), Ikiru (Japanese) and Wild Strawberries (Swedish). In Geethanjali, the characters are young. In Ikiru and Wild Strawberries, the characters are old.