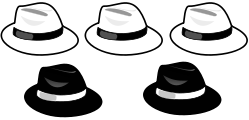 At the Secret Convention of Logicians, the Master Logician placed a band on each attendee's head, such that everyone else could see it but the person themselves could not. There were many, many different colours of band. The Logicians all sat in a circle, and the Master instructed them that a bell was to be rung in the forest at regular intervals: at the moment when a Logician knew the colour on his own forehead, he was to leave at the next bell. Anyone who left at the wrong bell was clearly not a true Logician but an evil infiltrator and would be thrown out of the Convention post haste; but the Master reassures the group by stating that the puzzle would not be impossible for anybody present. How did they do it?
Heard in IIT Delhi in 1995.
© Copyright 2008—2017, Gurmeet Manku. Send me email