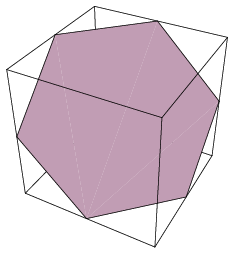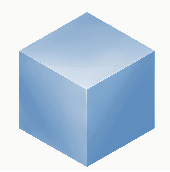 (a) The length is √5 times the length of the edge. The solution is explained here.
(b) A hexagon (shown on the right).
(c) A hexagon (shown below). In fact, the hexagonal cross-section allows a square to be fitted entirely inside it whose dimensions are larger than the sides of the original cube. This insight allows us to solve an old puzzle by Henry Dudeney:
"I had two solid cubes of lead, one very slightly larger than the other, just as shown in the illustration. Through one of them I cut a hole (without destroying the continuity of its four sides) so that the other cube could be passed right through it. On weighing them afterwards it was found that the larger cube was still the heavier of the two! How was this possible?"
(d) It is easy to find sequences of 27 distinct small cubes such that pairs of adjacent small cubes have common faces. However, it is not possible for such a sequence to enjoy the additional property that the first and the last small cubes also have a face in common.
Explanation: Color the 1×1×1 cubes either black or white such that any horizontal or vertical 3×3×1 slice looks like a chessboard. In other words, if two 1×1×1 cubes share a face, they are of opposite color. If we visit 27 small cubes in any sequence such that any pair of adjacent small cubes have common faces, then the first and the last cubes must have identical color and therefore will not have a common face.