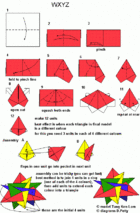 (Click to enlarge)
The simplest "intersecting planes model" is WXYZ by Tung Ken Lam.
Step 1: Familiarize yourself with Origami symbols like mountain / valley folds.
Step 2: Make 12 units of the WXYZ Model, as per instructions in the image (click to enlarge). Excellent Photographic Instructions are also available. Or you may watch the videos below.
Step 3: Assemble 12 WXYZ units together, as per instructions. You may also watch the videos below.
Step 4: Take a picture of your model and display it on the web!
Step 5: Make other Intersecting Plane Models or design one of your own.